I know Halloween hasn't even happened yet but I'm still super excited for Christmas (only 95 more days!!!!!). In the past, Target has had advent calendars filled with socks for every day leading up to Christmas. This year is no different. As Disney fans, we should be extra excited for this year's Target socks as many of their new themes are Disney related!!! Check out this year's Disney socks options.
Mickey Mouse:
Of course, we can't start talking about any Disney themed socks without bringing up the obvious classic Mickey Mouse. The beautiful Minnie Mouse makes an appearance on the Mickey socks as well. Great for the classic Disney lover.
Lilo and Stitch:
These Lilo and Stitch themed socks showcase a nice combination of our favorite Girl and her alien best friend. These fun blue, pink, and Hawaiian socks are sure to get an "awwww cute" every day you are wearing them.
Star Wars
These socks are for all the Disney lovers who want some out of this world merch on their feet. These socks have all the Star Wars characters from Yoda to Princess Leia. Everything in this box is out of this world!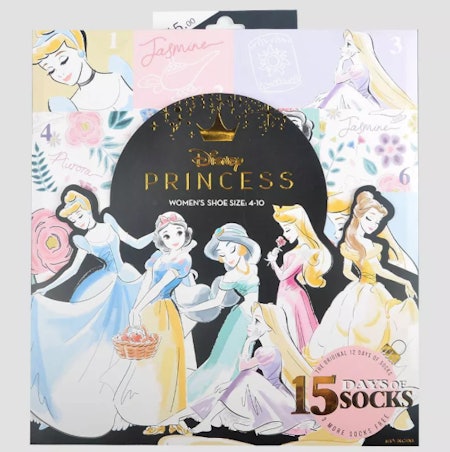 Disney Princess:
These socks include Pocahontas, Belle, Jasmine, and Arora. These socks are perfect for everyone who grew up loving Disney Princesses! Great for kids, teens, and adults.
Nightmare Before Christmas:
Finally, let's remember the holiday that is actually coming up soon, Halloween! These spooky (yet festive) socks are perfect for the 15 days of Halloween and the 15 days of Christmas! featuring all your favorite Nightmare Before Christmas characters like Jack Skellington and the Mayor!
No matter what sock calendar you get they are absolutely adorable! I know personally, I am going to get the Nightmare Before Christmas for a Halloween calendar and the Princess for my Christmas calendar!!! Don't forget to thank Target for making this Christmas season one to remember!!
Hope you enjoyed
Stay Magical!